Celebrating Outstanding Contributions to Planning in Westchester County
Planning Achievement Awards
The City of New Rochelle has undertaken an effort to address the challenges of resource depletion, climate change, infrastructure costs and waste generation, among many other challenges that are facing governments on the local, state and federal levels. These challenges are no longer just abstract ideas, as even the average citizen feels these challenges in their day to day experiences. For us in public and private sector planning, these issues have increasingly become part of our lexicon over the years. With GreeNR The New Rochelle Sustainability Plan 2010-2030, New Rochelle has moved to address these challenges in a comprehensive, and achievable plan. GreeNR sets in motion ways to address and manage resource depletion, energy usage, climate change, economic development, and shifting social needs and economies.
Organized around 10 big goals, GreeNR is written to clearly identify and define these challenges, establish initiatives to meet those challenges, and then clearly and concisely divides them into short, medium, and long term actions that form a 20 year road map toward achieving those goals. The goals reflect a comprehensive approach to the challenge of sustainability, from reducing energy use and solid waste generation to preserving and restoring natural resources to directing development near transit. The last Goal recommends subscribing half of the households in the city to the city website, which clearly indicates the commitment and belief that public participation is necessary to success.
GreeNR is not simply an acknowledgment of the issues facing us here in Westchester, and across the globe, but is a sensible, measured guide to meet these challenges for the next 20 years.
---
The development of railroads shaped the built landscape in America, and left a lasting legacy on the fabric of small communities throughout the nation. Once the automobile supplanted the railroad as the dominant mode of commercial and passenger transport, railroad infrastructure such as bridges, station houses and rail corridors were left without usefulness. The Town of Yorktown has recently taken another step in preserving, and reusing its artifacts from the age of rail with the creation of a public garden within an abandoned railroad engine turntable.
Yorktown Heights came into being because of the NY Central Railroad's Putnam Division, fondly nicknamed the "Old Put," and due to its location on the line, became a hub of railroad activity. Of course it had a station, which still stands and is on the National Register, but also had an operation yard serving the railroad. The yard was complete with a water tower, and a turntable for locomotives. A number of years ago, the area around the station was made into a park, which straddles the popular North County Trailway and last year, Yorktown completed adapting its abandoned engine turntable into a trailside public garden. Conceived after 9/11, Patriot Garden is dedicated to the honor and memory of exemplary citizens of both local and national stature. The existing ring that formed the turntable became the boundary of the formal styled garden. Planting beds and walkways were formed within, and the garden comes to life with assorted perennials and annuals. Designed by IQ landscape Architects, it is ADA accessible, and located adjacent to the North County Trailway, near town hall and the recently built skateboard park. The garden has attracted the interest of civic groups, who contribute to its design and maintenance, such as the Garden club and the Yorktown Leos. Patriot Garden has achieved the creation of usable public space from an aging abandoned railroad artifact.
---
Going green is a phrase we hear quite often today. Following that credo, however, takes commitment and attention to detail. Cortlandt's recently completed Youth and Recreation Center demonstrates such commitment and attention. The facility is a 5,400 square foot state of the art multi-use building that was conceived and developed taking a holistic design approach. This approach considered site selection, building design, green initiatives, and occupant health and safety. The designers were guided by the 5 key areas in Leadership in Energy and Environmental Design or LEED, of the US Green Building Council: sustainable site development, water efficiency, energy & atmosphere, materials and resources, and indoor environmental air quality. The site was selected for its connectivity to the community, was developed with sustainable techniques such as rain gardens and pervious paving; The rain gardens will be used to provide irrigation for water efficient, indigenous landscape materials; the building incorporates high efficiency HVAC systems and appliances, solar panels to supplement electric systems and utilizes daylighting and efficient lighting fixtures to minimize energy usage; recycled or recyclable building materials were selected throughout the building and materials produce locally or regionally were selected to the greatest extent practicable; all interior finish materials including sealants and adhesives were selected for their low-emission of irritants and other undesirable gases.
After all of this attention to detail and green technology, Cortlandt succeeded in producing an attractive, pleasant public building, dedicated to the young people of the community. It embodies a home away from home feel inside and out, and offers a broad host of activities in an array of spaces. There is a large game and activity room with ping pong, pool, and air hockey, and an adjacent room housing a rock climbing wall, the centerpiece of the facility. There is a workout room, computer lab, conference room, crafts room, and a kitchen for training activities. The building is a model of employing cutting edge green technologies while maintaining pleasing architecture that is comfortable and usable.
---
The importance of protecting our water resources and managing storm water has become increasingly acute in recent years. Issues of flooding, pollutant control, habitat protection are part of our day to day diet of planning concerns. Innovative practices to manage these concerns are needed if we hope to be successful in protecting our water resources. Since 1998, Westchester County has been developing and implementing a program that has produced more than 3 dozen aquatic resource restorations and stormwater management projects. Most of these projects have been watershed based and focus on improving water quality in the Bronx River and Long Island Sound.
Many of the projects incorporate innovative practices in wetland, watercourse and pond restoration and stormwater management. They are designed and built as models of the evolving body of thought on aquatic resource restoration and storm water management.
As models, the projects are designed with an education component, including educational signage, video and print media, and a webpage. Volunteer participation, and outdoor classrooms have also been part of the program. With the Stormwater Management and Natural Resource Aquatic Restoration Program, Westchester County has demonstrated a commitment to watershed water quality, and produced model examples of innovative restoration and management techniques.
---
Special Regional Commendation

The Hudson River is arguably the defining natural feature of our region. Through much of its history the river has been a magnet for commerce and industry and such development dominated its shores. As this trend waned in the last half of the 20th century, and environmental regulations began to improve the river, renewed interest was sparked in the riverfront as a natural asset to protect, enhance, and celebrate. The Hudson was soon designated a National Heritage Area by Congress in the 1990s. The riverfront is now being viewed as a desirable place to live, visit and enjoy, and new residential and public recreational development has began to come to its shores. Scenic Hudson, with a grant from the Department of State Office of Coastal, Local Government and Community Sustainability, created "Revitalizing Hudson Riverfronts, Illustrated Conservation and Development Strategies for Creating Healthy, Prosperous Communities." This planning guide seeks to assist developers, government officials, civic organizations, and citizens in shaping development along the river in a sustainable, sensitive manner that promotes and enhances the natural asset that is the Hudson. The guide offers tools to protect environmental values & scenic resources, promote public access and creation of public spaces, and promote appropriate development both on the riverfront and inland. The guide is written clearly without professional jargon, and is richly illustrated with both drawings and photos.
---
Citizen Planners
Gary Zuckerman – Rye Brook Planning Board
Mr. Gary Zuckerman is being honored tonite as a distinguished citizen planner, serving on the Village of Rye Brook Planning Board, and now in his sixth year as chair of that board. Mr. Zuckerman served for eight years on the Board of Trustees in the 1990s, and it was there that he cut his planning teeth so to speak . At that time, the Board of Trustees was the approval authority for development applications in the village with the planning board in an advisory role. In early 2005 the Board of Trustees relinquished authority for many land use projects to the Planning Board. Mr. Zuckerman's leadership was crucial to the planning board in guiding this transition from an advisory board to an approval board. He provided needed leadership as the planning board broadened its scope, and developed its procedures and policies, and worked to ensure that the application process remained as streamlined and efficient as possible. Mr. Zuckerman is a leader on the issue of fair and affordable housing in rye brook and is a member of the village's Affordable Housing Model Ordinance Task force, charged with recommending zoning text amendments that support fair and affordable housing in the Village.
---
Dwight Douglas – Peekskill Planning Commission, Westchester County Planning Board
Mr. Dwight Douglas is also being honored tonight as a distinguished citizen planner, serving on the City of Peekskill Planning Commission and on the Westchester County Planning Board. Mr. Douglas has worn both planning hats – as a professional planner and also as that of a citizen planner. He spent many years working for Peekskill as deputy director of planning and later as director. Since 2000, he has served on the Westchester County Planning Board, currently as Vice Chair, lending his expertise to the review of land use projects around the county, and also to the creation of Westchester 2025. As a member of the Planning Commission in Peekskill, and currently as Chair, Mr. Douglas has worked to continuously improve the many varied land use applications so that the goals and objectives of the city are met. His professionalism and leadership have been instrumental in achieving a balance with realizing these goals and the needs of applicants. His extensive knowledge was essential in the review of projects that have helped produce a revitalized Peekskill, such as a LEED certified Holiday Inn Express, Artists' lofts and senior housing projects, among many others.
---
Scholarship Award
Lisa Blake, Columbia University
Each year the Planning Federation awards a scholarship to an undergraduate or graduate student seeking a degree in planning and related fields such as landscape architecture, architecture and public administration.

Applicants are required to demonstrate an interest in and understanding of issues affecting older suburban communities. The application also indicates that preference will be given to students with a connection to Westchester County.

This year we received 12 applications representing students attending a total of eight different universities and pursuing degrees in 4 different fields. After thoroughly reviewing each of the applications, the scholarship committee unanimously agreed that the strongest candidate was Lisa Blake, a graduate student pursuing a degree in Planning from Columbia University.

Lisa completed her undergraduate studies at Cornell University in 2007 and received her degree in Natural Resources with a concentration in Planning, Policy and Law. She is currently a student at Columbia University's Graduate School of Architecture, Planning and Preservation and is scheduled to graduate in May 2012.

Lisa is currently working on a studio project at Columbia studying innovative ways to preserve historic districts and neighborhood character while accommodating future development. She is also working on a project creating a land use plan for a hypothetical suburban town that can accommodate population growth and economic development while preserving the Town's historical and social character and environmental resources which is a planning effort most of us in this room can relate to.

Lisa has worked and interned at the Westchester Land Trust, the New York City Law Department: Environmental Division and the Westchester County Department of Environmental Planning where she collected stream-water samples and analyzed and organized stream monitoring data as well as participating in community outreach training sessions to train volunteers.

Lisa was born and raised in Yorktown Heights and as a high school student volunteered for the Yorktown Volunteer Ambulance Corp, the Guiding Eyes for the Blind and the Teatown Lake Reservation.

It is my pleasure to present this year's Westchester Municipal Planning Federation Scholarship to Lisa Blake.
---
President's Awards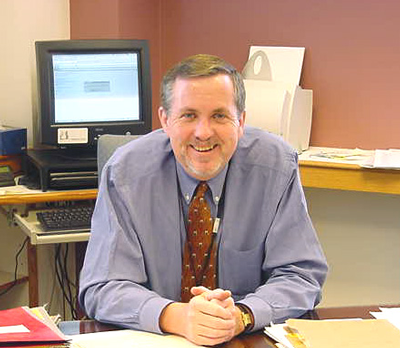 Gerard E. Mulligan, AICP
Jerry began his career in the Westchester County Department of Planning in 1979, beginning as a Planner and then moving up to serve as Associate Planner, Chief Planner, Acting Director of Real Estate, Deputy Commissioner, and finally Commissioner during 2003 to 2010. He was instrumental in or championed numerous significant County planning initiatives including Westchester 2025, the Legacy Program for Open Space & Trailway Development, Westchester RiverWalk, the Fair and Affordable Housing Program, Hilltop Hanover Farm, and watershed planning and flood mitigation programs in different areas of the County. He has been a leader in the County and surrounding region in promoting regional planning and intermunicipal cooperation within various task forces, large-scale coalitions and land acquisition initiatives.
We who have had the privilege to work with Jerry on these and other planning projects have appreciated his thoughtful guidance, his diplomatic nature, and his perceptive ability to see the big picture as well as the details. IN RECOGNITION OF HIS COMMITMENT TO PLANNING EXCELLENCE AND OVER 30 YEARS OF DISTINGUISHED SERVICE TO WESTCHESTER COUNTY AND ITS PEOPLE, I am honored to present the 2011 WMPF President's Award to Jerry Mulligan.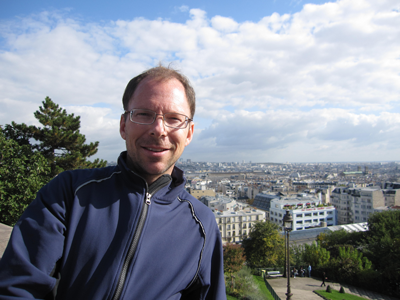 Joshua A. Moreinis, AICP – Urban Planner
Josh Moreinis practiced planning with both a capital P and a small p – no matter the context or scale, his energy for and dedication to applying his planning knowledge and expertise seemed to know no bounds. Josh received both a bachelor's and a master's degree in planning from Columbia University and was a Fulbright Scholar in South Korea. As you can see from the slides, Josh loved to travel with his wife Pamela to experience both urban and nonurban places firsthand, and he would later apply those "lessons learned" in his planning efforts. He worked in both the public and private sectors, including the Bronx Office of the NYC Department of City Planning, and firms such as Saccardi & Schiff, Tim Miller Associates and STV – but it almost didn't matter whom he was officially working for – he always seemed to have the best interests of the community – and the people of the community – at heart.
As you may not have known, Josh was a prolific painter. His website describes him as "a painter and urban planner in the Hudson Valley, [whose] work relies on his extensive knowledge of trails and overlooks, and a tradition that has passed on for centuries of paying homage in paint to one of the country's most scenic and historic river valleys." Josh's love of the Hudson Valley, of trails, and of community was also reflected in his volunteer planning efforts for his home village of Croton-on-Hudson, which included his work starting and chairing the Bicycle/Pedestrian Planning Committee, whose Bicycle-Pedestrian Master Plan was adopted in April 2009 to promote human-powered locomotion throughout the Village. IN RECOGNITION OF JOSH MOREINIS'S PASSION AND SENSITIVITY AS AN URBAN PLANNER IN WESTCHESTER COUNTY AND OTHER FORTUNATE COMMUNITIES, I am honored to present the 2011 WMPF President's Award to Josh's widow, Pamela Ivinski.
Go to 2010 Award Winners ->