Planning Achievement Awards
Village of Ossining Avalon Bay
The Village worked with Avalon Bay Communities to create 168 rental housing units (10% affordable) and 14,000 sf of office space, provide 8 acres of parkland with connecting trails and rehabilitate the historic Kane House.
---
Village of Scarsdale South Fox Meadow Brook Stormwater Project
Responding to flood events in this drainage basin, part of the Bronx River watershed, the Village addressed and recuded peak flows by up to 70% using a series of methods ranging from detention basins to rain gardens.
---
Town of Somers Stormwater Retrofits
The Town, one of the 19 municipalities of the East of Hudson Watershed Corporation mandated to reduce phosphorus loading in the Croton Watershed, produced a variety of reduction measures while maintaining the aesthetic values of Reis Park.
---
Planning Commendation

Town of North Castle Armonk Square
This infill and revitalization project in Armonk Village implements a philosophy of design that incorporates pedestrian and public space amenities designed to invigorate and enhance the downtown core.
---
City of Mount Vernon Senior Floating Zone
The City responded to the changing demographics of its senior population by creating and adopting a new senior housing floating zone. The zone more appropriately aligns with current senior housing needs and the City's comprehensive plan, and eliminates potential spot zoning issues.
---
Village of Croton on Hudson Harmon Zoning Gateway
The Village implemented this zoning amendment to provide fundamental opportunities for redevelopment and revitalization and to promote the desirability of the Harmon neighborhood.
---
Special Planning Award

Westchester County Parks Camp Morty
This summer camp in Mountain Lakes Park in North Salem provides a sleep away experience for over 500 underprivileged children from the county's urban areas.
---
Citizen Planner Awards
Joseph Clarke
Village of Ossining Planning Board
Serving as Chair of the Planning Board since 2003, Mr. Clark has guided Ossining towards a period of expansion and growth not experienced in decades. He was instrumental in the development of the comprehensive plan, zoning code, architectural guidelines and the waterfront access and trail plan. His commitment to highlight the heritage and the unique built and natural resources of Ossining is leading the Village's rebirth as a vital Hudson Rivertown.
Fedora Delucia
Town of Somers Planning Board
Fedora DeLucia began her service on the Planning Board in 1992 and became its Chairperson in 2005. She has worked to improve the planning process as well as championed planned hamlet zoning, conservation subdivisions, and the preservation of historic resources and rural landscapes. She served on the town's Master Plan update committee that spearheaded the plan's adoption in 2007.
Andrew Messinger
Town of Bedford Wetlands Control Commission
Admired for his calm and intelligent leadership, Mr. Messinger has distinguished himself in his service by balancing wetland preservation with private property rights. He is adept at fashioning solutions which achieve the objectives of the wetlands law, which affect 40% of Bedford's parcels. He served on the Town's Conservation Board and Tree Advisory Committee.
John Flynn
Town of Yorktown Planning & Zoning Boards
John Flynn has served on the Planning Board since 2002, for the last nine years as its Vice Chair. Prior to this, he served 11 years on Yorktown's Zoning Board. A passionate advocate of high quality planning and design, he considers the wellbeing of the citizens of Yorktown in the planning process – one reason for the Boards' success in creating an attractive, sustainably built environment.
---
President's Award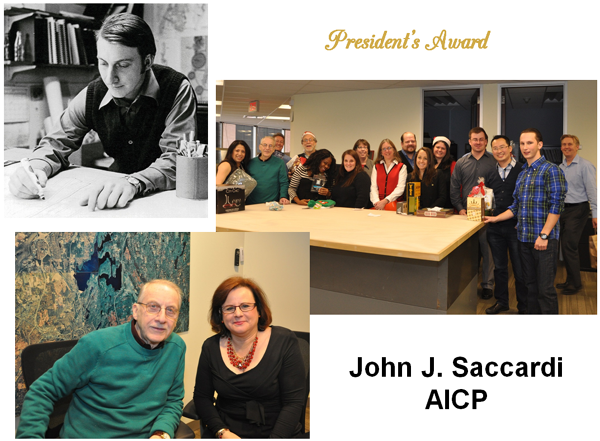 John Saccardi, VHB Vanasse Hangen Brustlin, Inc.
John Saccardi, a former WMPF director, treasurer and program committee chair has practiced planning in Westchester County, the lower Hudson Valley and Long Island for over 40 years. His special expertise is in the areas of comprehensive planning, zoning, housing and community development, and environmental assessment. He has served as a mentor to generations of Westchester planners through the various boards, commissions, and task forces on which he has served.
---
Scholarship Award
Christy Conley
Christy grew up in Rye, New york. She received her undergraduate degree in environmental studies from Denison University in Ohio. In 2015, Ms. Conley anticipates completing her degree from the graduate landscape architecture program of SUNY ESF, Syracuse.
Go to 2013 Award Winners ->