On June 8, 2017, WMPF held the 44th Annual Planning Awards Program and Dinner, an event that celebrates outstanding contributions to planning in Westchester County. The Village of Briarcliff Manor was host to the awards at the Sleepy Hollow Country Club.
Congratulations to the 2017 Winners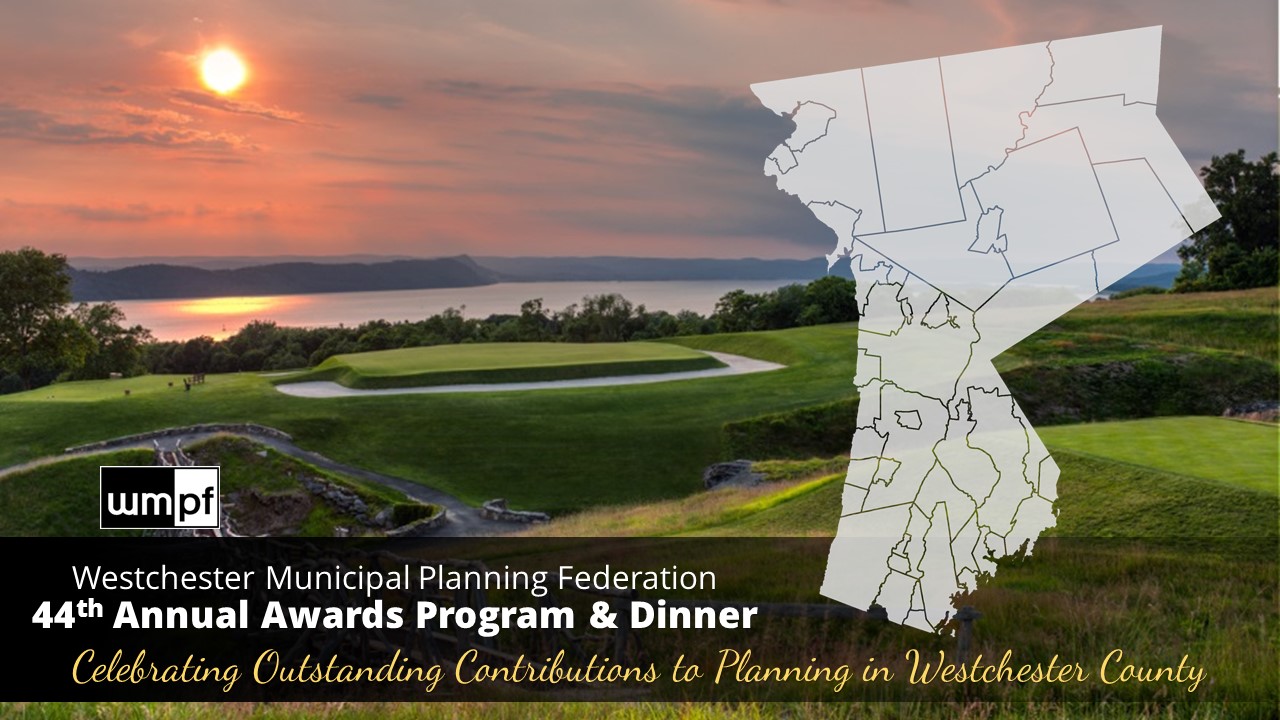 ---
City of Yonkers | Adaptive Re-use of the Boyce Thompson Center
The Boyce Thompson Institute was built as a botanical research facility in the 1920's to improve agriculture and environmental practices. The Institute continued at the site until the 1970's when it relocated to Ithaca, New York. The site was then used as offices. Vacant for nearly four decades, the main building has been restored to its original character and re-purposed into an innovative 85,000 square foot mixed-use center featuring premier office and medical space, retail stores, and restaurants.

Link to: Tarrytown, Connected.

---
Village of Tarrytown | Tarrytown Connected
Tarrytown Connected is a step in Tarrytown's efforts to address the burgeoning interest in its railroad station and waterfront. Like many riverfronts in the region, the area is ripe for transition from industrial and manufacturing uses. The Study offers several development concepts of the area which are intended to set the stage for redevelopment into a walkable, pedestrian oriented community.

Link to: City of Yonkers website

---
Village of Mamaroneck | Aqua Tots Development & Adaptive Reuse Legislation
The Strait Gate Church, listed as a site of local historic significance in Mamaroneck, has been re-purposed into the Aqua Tots swim school. In order to bring the project to reality the Village had to approve a zoning map change, a special use permit, and a site plan. This extensive process led to the Village's creation of adaptive reuse legislation, which is targeted at religious and educational buildings that are at risk for demolition.

Link to: Adopted Legislation

---
City of Mount Vernon | Mount Vernon West Transit Oriented Development Form Based Zoning Ordinance
The Mount Vernon West Train Station area was originally developed as an industrial area centered on a transportation hub, vital for moving goods to outside markets. As industry declined, the rigid Euclidean zoning in the area stifled re-development, prompting the City to create a form based zoning which leverages the existence of the railroad station. The zoning seeks to spur investment, create a mixed-use community, and gateway to the eastern part of the City of Yonkers.

Link to: Adopted Ordinance

---
Town of Greenburgh | Comprehensive Plan 2016
The Town of Greenburgh Comprehensive Plan 2016 is the culmination of eight years of research, public visioning, and planning. The Plan utilizes sustainable development principles as its core guiding strategy and is written to such a high level of detail that the Westchester Planning Commissioner noted that it "may be the most encyclopedic Comprehensive Plan" of any Westchester municipality.

Link to: Adopted Plan

---
Village of Pleasantville | Master Plan Update
The 2017 Village of Pleasantville Master Plan Update is designed to guide the Village's downtown into a 21st century community. The Plan envisions the downtown as a livable and lively center of community life with new housing opportunities that take advantage of the rail station and cultural institutions like the Jacob Burns Center. The Update offers zoning revisions, downtown parking strategies, and improved pedestrian amenities to aid in achieving the vibrant downtown it hopes to achieve.

Link to: Adopted Plan

---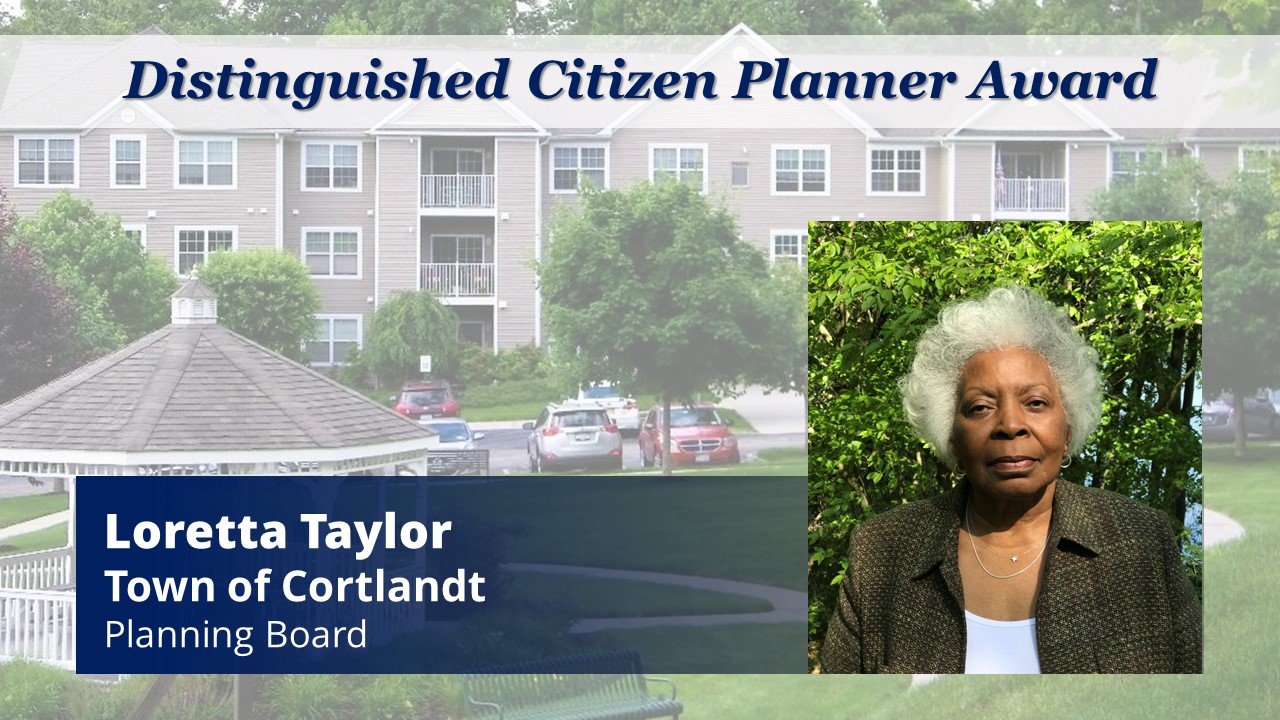 Loretta Taylor has been providing leadership and guidance on the Cortlandt Planning Board since 1990. She was appointed vice-chair of the Board in 2004 and became chairperson in 2010. Her knowledgeable and balanced approach has been a major factor in Cortlandt's success in carefully reviewing and guiding hundreds of important projects that have shaped the Town. She has brought a keen sense of balance between community character, property rights, and neighborhood interests to three Comprehensive Plans, and her efforts have helped chart Cortlandt's course and identity, that will be evident for years to come.
---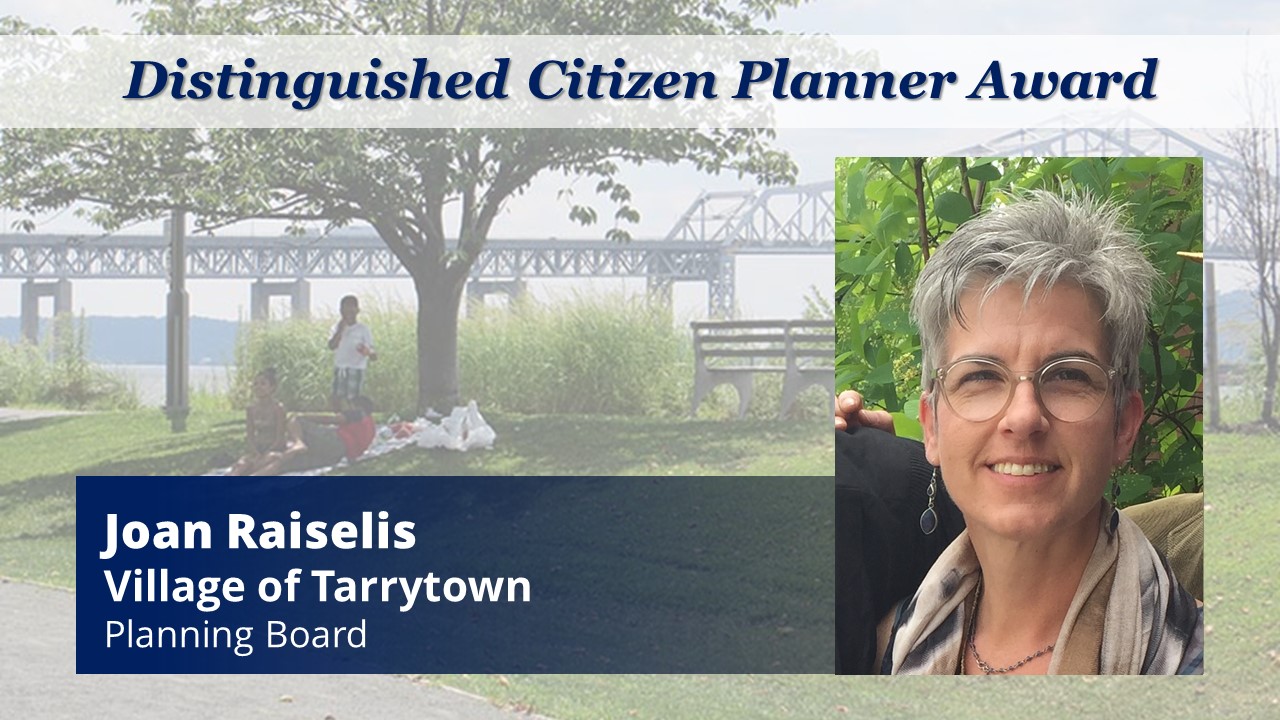 Joan Raiselis, as a champion of sustainability, espouses the virtues of energy efficiency, and sustainability in daily life. She founded Sustainery, a not-for-profit, whose mission is to educate adults and children in sustainable living practices. She trained with the Climate Reality Project under Al Gore and brings an environmental awareness to the work of the Tarrytown Planning Board. Appointed to the Board in 2006, and co-chair of the Village Train Station Waterfront Study, she has helped guide Tarrytown's major development projects for over a decade.
---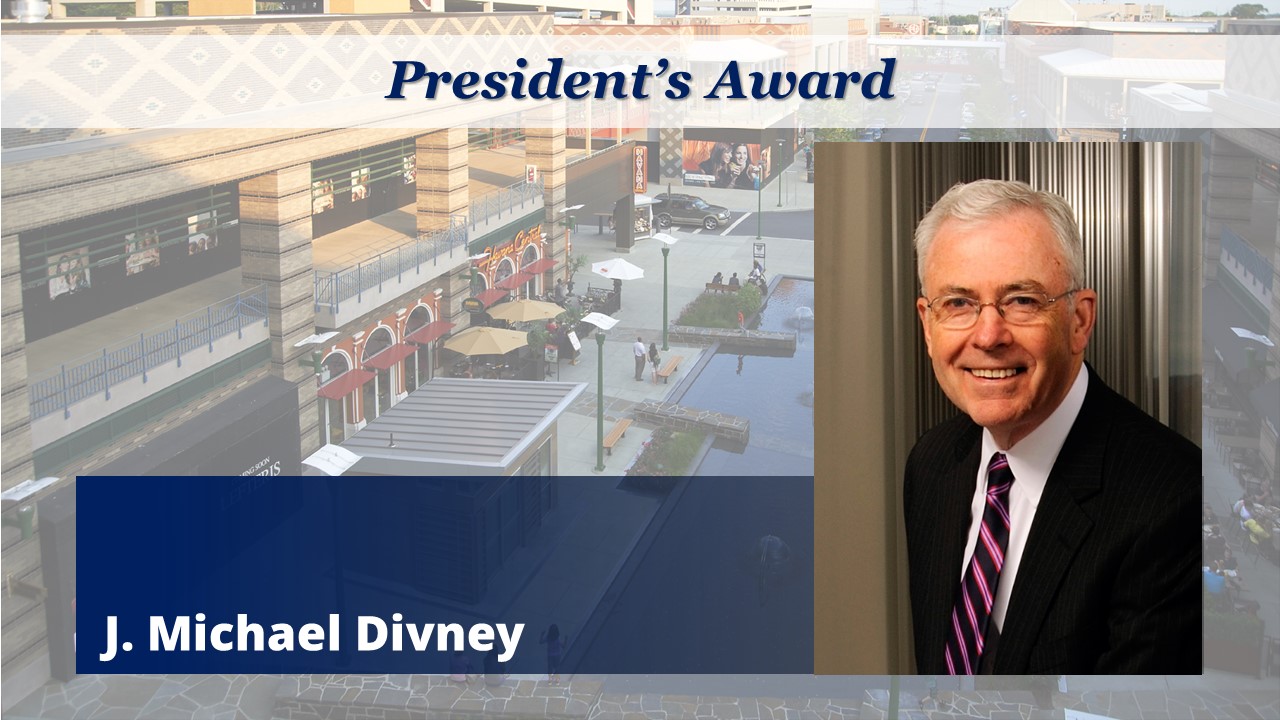 Michael Divney is a professional engineer and certified planner who has practiced in Westchester County for over 50 years. After six years as Director of Engineering and Planning for the White Plains Urban Renewal Agency, Mike opened his own multidisciplinary planning firm in 1972, founded on the belief that the interests of the private and public sectors can be blended together for their mutual benefit.  Since that time he has assisted clients, organizations and communities throughout the County and beyond to develop collaborative and sustainable solutions to complex land use challenges. Mike has also served for many years on the White Plains Hospital Board of Directors, and was its chairman from 2010 – 2015.
---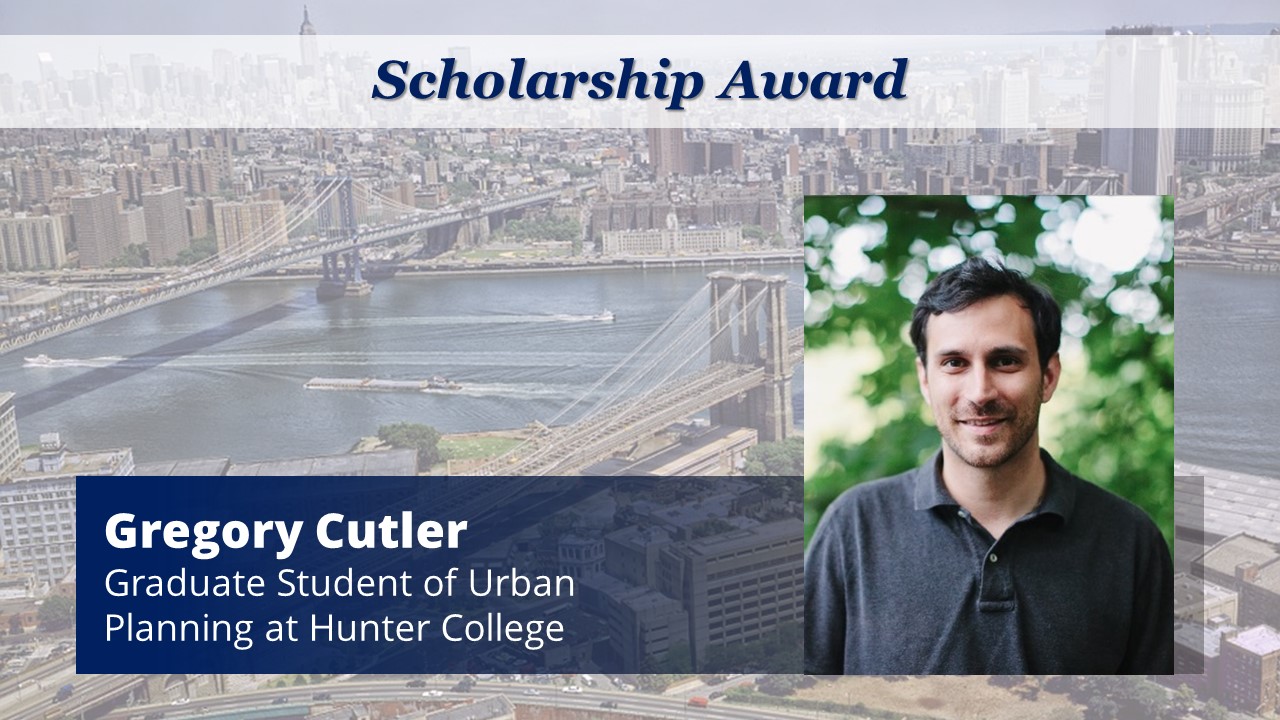 Greg Cutler received his bachelor's degree in Geography from Binghamton University and is currently pursuing a Masters in Urban Planning at Hunter College. He has been working in the planning field in Westchester County since 2012. Starting as a part-time GIS technician in the Village of Mamaroneck, and a public housing intern at the Town of Mamaroneck, Greg quickly advanced to the assistant planner position in the Village. He has contributed his time to WMPF as well as to the Hunter Graduate Urban Planning Association. Greg has a strong commitment to planning in Westchester, and the scholarship committee felt that this commitment, in addition to his academic success at Hunter and his community service, made him the best choice for the 2017 scholarship award.